INTERNATIONAL EXHIBITION VIETBUILD HO CHI MINH CITY 2012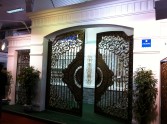 Exhibition Vietbuild Ho Chi Minh city 2012 from July 04th to July 08th 2012.
Vietbuild Exhibition is opened from July 4th to 8th, 2012 at Phu Tho stadium- HCMC. When visitors go into the exhibition area, discount of 10 % is available for order booked in Vietbuild exhibition. Discount 5% is available for ordrer booked from July 9th to 31st, 2012. Welcome your visit.