Gosanjo Mix Villa Gates - Coordinate and harmonize
Wednesday - 27/01/2016 10:44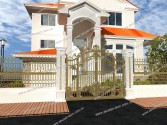 Following Uchiwa gates products ,ASUZAC ACM still maintain 3D technology to design, make samples of new products to satisfy the increasing requirements of customers both aesthetic elements as well as quality products . Along with that , the vacuum casting process V - Process is a significant advantage in terms of technology , helping us produce designs with intricate details perfectly .
Towards products with high adaptability, ASUZAC ACM continue to simpledesign style, to be able to fit most current building design.
Most recently , ASUZAC ACM has introduced products Gosanjo Mix villa gate , which was inspired by the form Gosanjo port which is favored by customers .
Although dubbed selected Gosanjo Mix for customers to easily identify products line ASUZAC ACM villa gate, this product is a unique combination between style European style ( gateway in Buckingham Palace ) and pattern of samples Gosanjo port .
With this product , you hope that there are more appropriate choices for your home .
When you need more information or need advice , please contact us.
Newer articles
Older articles